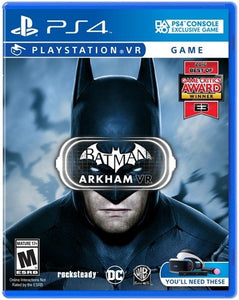 Batman: Arkham VR - PlayStation VR
Regular price LE 999.00 Sale
About the product
Batman: Arkham VR immerses you in the Dark Knight's Universe and redefines what it means to be the Batman.

Experience Gotham City through the eyes of the World's Greatest Detective in an all new Arkham mystery.

PlayStation VR required to play this game
Dark psychology
Batman: Arkham VR
Wear the cowl!
How will you feel when you put on the mask?
The man behind the mask.
Your quest to clean up Gotham has only just begun – and now it's even more terrifying than it's ever been. Exclusive to PlayStation VR, Batman: Arkham VR lets you become the Dark Knight in a virtual reality recreation of the DC's hero's more iconic locations.
Become the world's greatest detective and explore places such as Wayne Manor and the Batcave as you battle in a brand new and personal story set in Rocksteady's classic Arkham universe.
Product description
Platform:PlayStation 4
Batman: Arkham VR immerses you in the Dark Knight's Universe and redefines what it means to be the Batman. Experience Gotham City through the eyes of the World's Greatest Detective in an all new Arkham mystery